Miscellaneous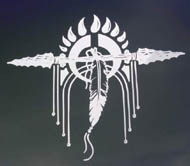 "Display these symbols of Heritage with pride on your auto or home"

"Please Note, All orders are shipped US Priority Mail with Delivery Confirmation"
American Indian Miscellaneous Items
Cherokee Trails Trading Post is proud to offer a number of items that are exclusive. These items were either developed by us, or were developed in cooperation with tribel counsels. A portion of the sale of these items goes directly to the support of the related tribes.
---
ECHOTA CHEROKEE BUMPER STICKER

Contains the Echota Cherokee Logo and the phrase "Reflections of the Past.....Visions of the Future". This phrase denotes that We remember where we came from, that we Honor our Ancestors-and yet that we should always "Keep an Eye to the Future" so that we may continue to strive to grow and better our lives and the lives of our People. This design idea was made possible by Tribal ChairPerson Charlotte Hallmark. PLEASE REMEMBER A PORTION OF ALL SALES THAT CONTAIN THE ECHOTA CHEROKEE LOGO IS DONATED TO THE ECHOTA CHEROKEE TRIBE.

Catalog#: CTTP-M021 Price: $5.50

Bumper Sticker Larger View Use Your back Button To Return To This Page.
---
| | |
| --- | --- |
| | The Indian Arts and Crafts Association (IACA) is a not-for-profit organization established in 1974 to support the ethical promotion and protection of authentic Native American art and culture. IACA works to stop fraud and abuse within the market for Indian art through education, publicity, authentication and use of our logo to indicate certified ethical businesses. IACA sponsors the largest wholesale trade shows of handmade Indian art in the world twice a year. Members include Native American artists, wholesale and retail dealers, museums, collectors and others who support the goals of the organization. IACA supports and works for the protection of indigenous art worldwide. |